Restorative Justice:
An immersive weekend training
Presidents' Day Weekend- Garrison Institute
The Restorative Center's weekend training provides an experience-based understanding of the foundational components of Restorative Justice. Our trainings are engaging, lively and informative. We utilize theory based lectures, the interactive circle experience, skill development, mock circles, as well as small and large group discussions. TRC's Newburgh Model Workbook will be distributed to participants.
The training will be led by Shailly Agnihotri, TRC's Founder/ED, along with experienced teen and community leaders in Restorative Justice. Read Shailly's law review article: Reclaiming Restorative Justice: An Alternate Paradigm for Justice.
Garrison Institute - Three nights
The Garrison Institute is located in Garrison, New York in a former Capuchin monastery overlooking the Hudson River, an hour north of Manhattan. Guests enjoy 93 acres of preserved land, walking trails, and natural sacred spaces. Explore the beautiful 3-acre lake, walking paths, a basketball/tennis court, rec room and hiking trails into a forest lined with waterfalls. www.garrisoninstitute.org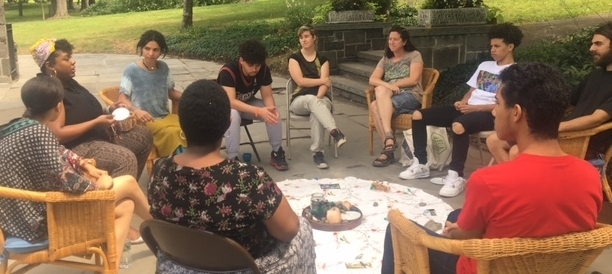 The potential of restorative circles in community
Explore the application of circles in our community, family, schools & workplace
Learn about talking pieces, the phases of a circle, and the use of prompts
How to use storytelling to develop empathy and share vulnerability
Develop the skills in communications and circle keeping
Friday February 15th, 2019
Check-in begins at 3pm

Dinner at 6pm

Course begins at 7pm

The Restorative Justice Process

The Circle Experience
Saturday
Breakfast

Theory & Practice

Elements of Restorative Justice Circles

Lunch

Time for unstructured reflection

The Phases of Circles

The Art of Circle Keeping

Dinner
Sunday
Breakfast

Additional Practice and Discussion

Mock Circles

Lunch

Time for unstructured reflection

Implementing Circles

Dinner 6-7pm

Monday February 18

Breakfast

Closing circles and next steps.

Check out begins at noon.
RETREAT IS FULL
Email for waitlist placement Train@TheRestorativeCenter.org